Powerful proximity analytics and location based mobile experience
All-In-one Proximity Management Platform
A geofencing and beacon managment platform that consolidates content creation, management,
deployment and visualization into one system.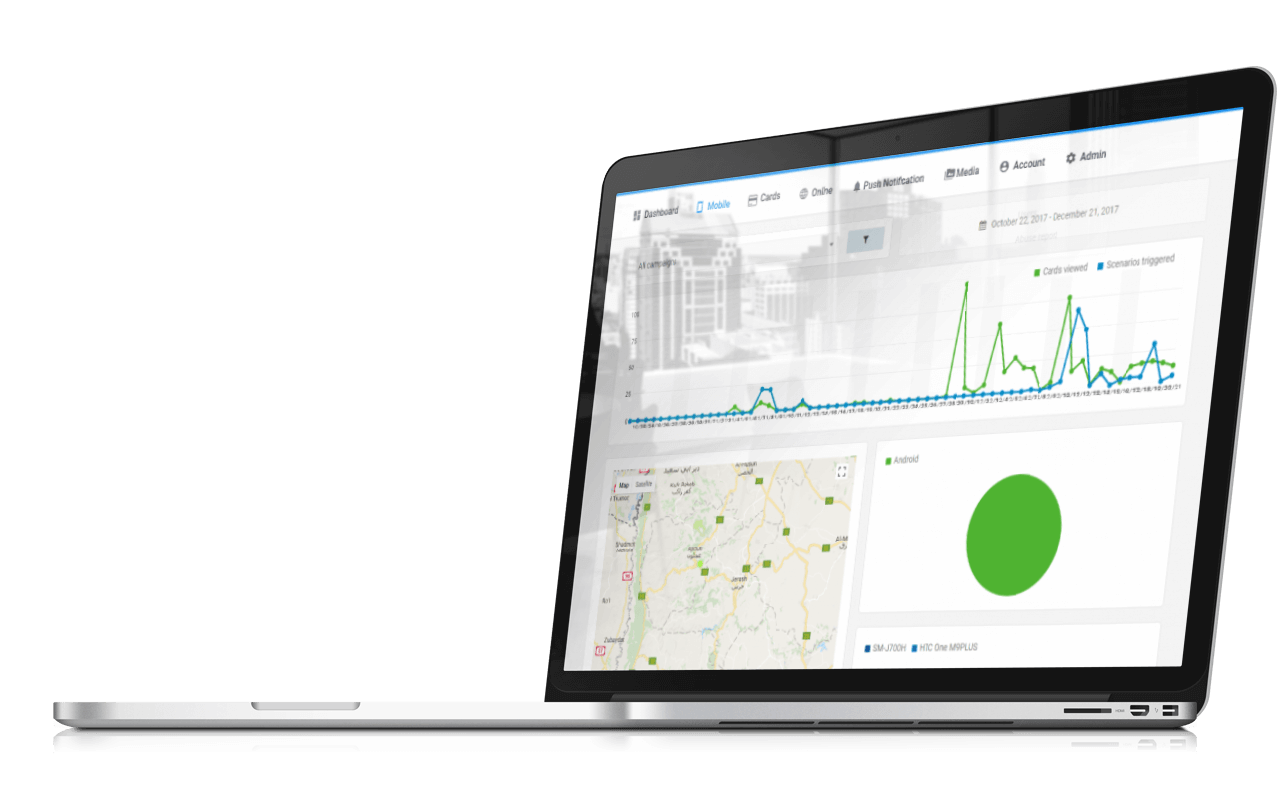 Create Venues
Create your Venue listings, Adding your Business information, locations, photoes, video, Social Links, Offers, and Opening Hours
GeoFences and Beacons
Setup and Manage, beacons and geofence infrastructure,across your locations. Simply create a geofence around the region you need to trigger proximity promotion to, or add a Beacon and its location.
Manage Offers
Create and Manage, your offers. Activate them when you wish, and link them to your venue listings. Add scarcity - Time, or Quantity based offers, Single or Multiple redeems and much more.
Define Scenarios
Define which notifications and content is pushed when customers visit or are in proximity of your geofences and beacons. Your content can be in multiple languages so people will see it in their phone native language.
Send or Schedule Notifications
Send at will push notifications to your user base. Inform them of new offers, business news, updates and more. Schedule your notifications or send them immediately. View your reports and get the full picture.
Promote Your Venues QR Code
Advertise your Whats-OUT app presence, and encourage visitors and customers to download and enter your special code or QR.
Engage & Promote
Be relevant and present for your customers with the right content at the correct moment. Make it memorable!
Personalise & Target
By using our personalization option, make your notifications personal and address them by their names! Laser target your message to the correct audience using our many filters on Age, Gender, Devio and more.
Analytics
Our platform provides you with real time insights and analytics for all your locations and customer interactions.
Connecting The Offline To The Online
---

Brands & Advertizers
Use location to engage with your users at the right time, and place!
Learn More

Resellers
Harvest the opportunity and partner with us. We offer a great opportunity for you selling state of the art proximity marketing solutions. Learn More
Learn More
Retail
Show deals and discounts when users walk around stands
Open a video when a user holds his/her phone near a product in your store
Show different contextual content for object based on day, date and / or time
Open a loyalty card when a user is near the checkout
Restaurants & Coffee Shops
Offer a free coffee when a user visits your restaurant
Offer a meal deal on specific days only
Open a coupon when a user visits your store
Invite users for a lunch during weekdays in the mornin
Museums, Parks & Attractions
Show multi language content for objects in your museum
Create an adventure story game in your amusement park
Show fun facts about animals in your zoo
Welcome a user when he/she visits your proprties with detailed information or a virtual tour
Stadiums & Events
Inform users about food and drinks at festivals
Inform attendees about your event details, speakiers, tracks, exhibits
Inform users about what band plays at what tent
Send them timely game results, or recorded videos of that special score
Health, Fitness & Local Businesses
Any local business; Hair Saloons, Florist, Laundry, Car Wash, Massage parlor, Gym, Mechanic, Lawn Mower, Dog Walkers, Roofers, Locksmiths, HVAC, Carpenters, Plumpers and more
Notify users about local businsses when they are nearby
Offer them your deals on services for your neighborhood
Travel & Tourism and Autos
Notify tourists about nearby points of interest and attractions
Push details about special local delas
Push details about Holiday Packages or Tours
Push information about last minute Air Tickets and Hotel Stays